Everything that you need to know about the Toronto party bus
Party:
The word itself is enough to make anything sound fun and exciting. Party is all about living in the moment yet making beautiful memories for the years to come. Well, who doesn't wish to have a party that is grand, exciting, and fun?
One of the best ways to celebrate any of your occasion in a striking manner is by hiring a Toronto party bus.
What is the Party Bus?
As the name suggests, a party bus is a large vehicle full of items that would make any party splendid. So if you are also planning a party soon, then you already know what you got to do. It doesn't matter what occasion the is party bus won't fail to add charm in them.
On what occasion you can hire a Toronto Party Bus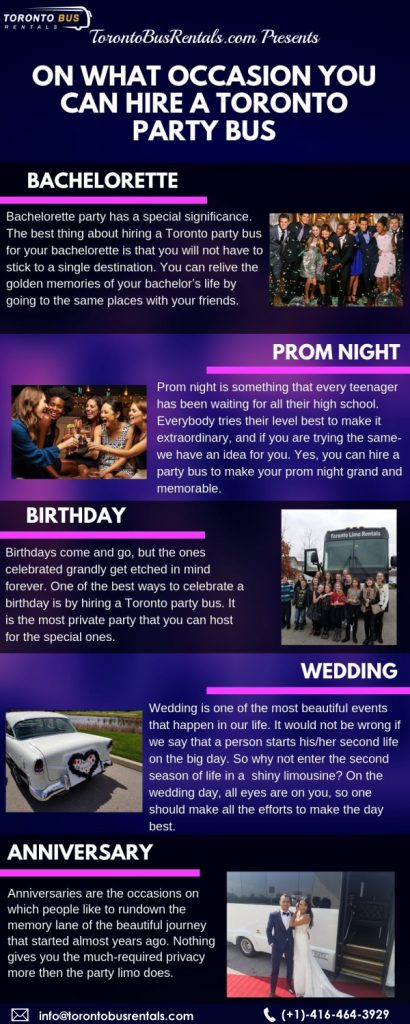 Bachelorette
Bachelorette party has a special significance; it is probably the last party that you enjoy being a bachelor. Yes, we agree you would enjoy parties even more with your soulmate, but wildness and craziness of the bachelorette would always be unmatched.
The best thing about hiring a Toronto party bus for your bachelorette is that you will not have to stick to a single destination. You can relive the golden memories of your bachelor's life by going to the same places with your friends.
Prom night
Prom night is something that every teenager has been waiting for all their high school. Everybody tries their level best to make it extraordinary, and if you are trying the same- we have an idea for you.
Yes, you can hire a party bus to make your prom night grand and memorable
Birthday
Birthdays come and go, but the ones celebrated grandly get etched in mind forever. One of the best ways to celebrate a birthday is by hiring a Toronto party bus. It is the most private party that you can host for the special ones.
Wedding
This goes without saying that the wedding is one of the most beautiful events that happen in our life. It would not be wrong if we say that a person starts his/her second life on the big day. So why not enter the second season of life in a shiny limousine? On the wedding day, all eyes are on you, so one should make all the efforts to make the day best.
Anniversary
Anniversaries are the occasions on which people like to rundown the memory lane of the beautiful journey that started almost years ago.
Nothing gives you the much-required privacy more then the party limo does. Like it is a complete home, a nightclub, a bar, a disc that completely belongs to you and your dear guests.
Things that you should keep in mind before hiring a Toronto Party Bus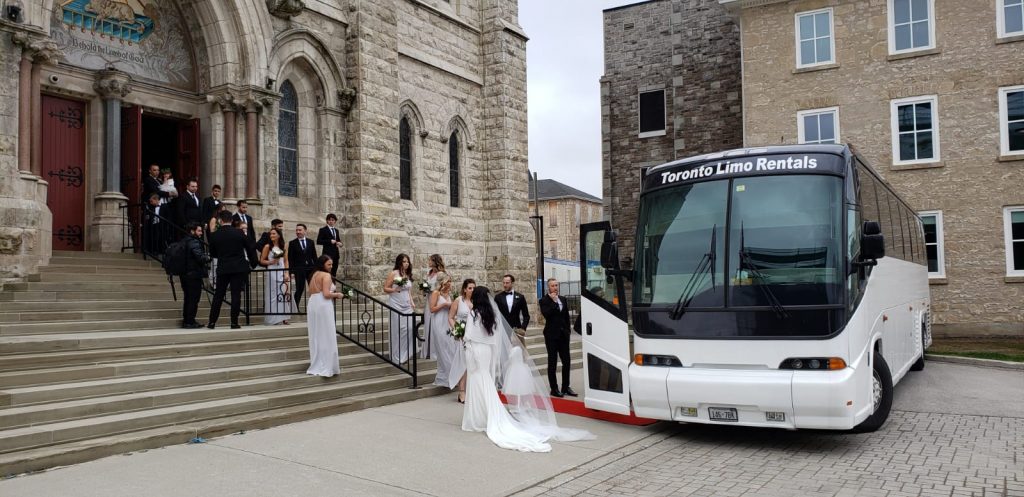 So if you have made your mind to hire a party bus to celebrate the special occasion, then you need to grow this list. These points will help you get the best deal one could ever ask for.
Choose the party bus according to the occasion
Every occasion has a different vibe. So to Match that vibe, one should choose a party bus that fits the occasion. For example, if you are hiring limo bus for your bachelorette, you would like it, equipped with top-notch drinks and an amazing Dj, while when you hire a party bus for the wedding, you would like it to be decorated in accordance to your wedding theme.
Get the quotes and choose the one that suits your budget
Another very important thing that you should keep in mind is the budget for the event. Always remember no matter how important the occasion is to you, one should always avoid overspending. It won't do you any good neither to your guest. So it is always better to create a budget beforehand and look for the party bus that falls within. You can consult multiple rental companies and get quotes.
Get references and read reviews
If you are hiring a party bus for the first, then choosing one of them may become troublesome for you. Therefore before choosing one, you should try getting references from your family and friends who have hired them. Even if you don't want to ask them, the internet is there to help. Reading online reviews can give you neutral feedback on the company's service.
Check the vehicle before booking
It is important to check the vehicle before you finalize the deal. Because giving away confirmation without having a look at the bus is like signing a document without reading it. Few dealers try to fool their customers by showing fake or edited images. Therefore make sure that you check the vehicle, its interiors, features, and sound system by yourself.
Look for insurance policy and driver's permit
Remember that responsibility for ensuring the safety of guests is on the shoulders of the host. That's why before booking a party bus you should always look for insurance policy and driver's permit. Doing so can prevent you from getting into the troubles later.
Decide what you need on the menu
What's a party without food? Food is the lifeline of the party, so you need to select the food items and drinks very cautiously. Also, remember serving alcohol on the board is a task that should be done carefully. If the bus gets caught serving liquor to children below the legal age, the host can land into some serious legal troubles.
Plan the route if you have multiple destinations
The beauty of the party is that you can have multiple destinations. But your route should be decided beforehand and should be discussed with the service providers priorly. This will help you get exact quotes.
In brief, these are the things that you need to keep in mind before hiring a Toronto party bus.